Welcome to the website of Nick Benjamin, acoustic guitar maker.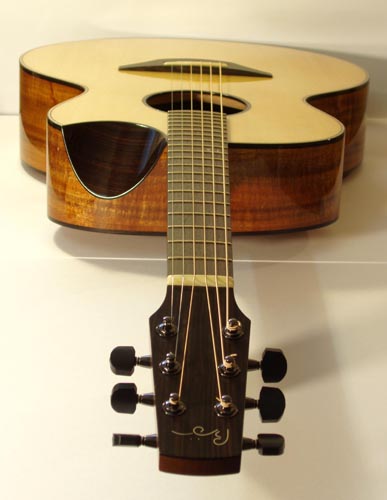 Lewes, East Sussex, England, UK.
Luthier Nick Benjamin produces small numbers of high quality handmade steel string acoustic guitars.
All the guitars are made in his small one person workshop and sold direct to provide an individual
and personal instrument designed with simple beauty in mind and tone and playability foremost.

Nick Benjamin's guitars have been used professionally by many musicians including;
Eric Roche, Newton Faulkner, Ray Davies, Mike Dawes, Ryan Keen, Kaki King, Thomas Leeb,
Clive Carroll, Richard Durrant, Nick Pynn, Phillippe Barnes, Stuart Ryan, Tab Hunter and Alex Kabasser.

Nick also carries out pickup fitting for acoustic guitars when time allows,
specializing mainly in LR Baggs and K&K systems.

As of March 2013, my waiting list is closed in order to allow me to concentrate
on the many existing orders I have taken recently. I am still happy to talk to
potential future customers but I will not be taking any more deposits until
my waiting list is down to a more manageable level, hopefully in a year
or two's time.
Day-to-day Benjamin Guitars news, thoughts and related events will now be posted on Facebook.
www.facebook.com/benjaminguitars
Guitar Making Courses
Several friends of mine are now running guitar building courses with all their pupils coming away
with extraordinarily professional quality instruments after a month of intensive work.
Richard Osborne - Steel String Acoustic guitar making courses in Lewes.
Pablo Requena - Classical and Flamenco guitar making courses near Lewes
and in Spain.
Stephen Hill - Classical and Flamenco guitar making courses in Spain.


Repairs

I am not doing any repair work at the moment
but am still usually happy to do pickup fitting.

Please get in touch with my good friend Richard Osborne
at www.osborneguitars.co.uk for general repairs.

THIS WEBSITE IS THE PAST AND CURRENT WORK OF NICK BENJAMIN INCLUDING MOST PHOTOGRAPHY
PLEASE EXCUSE THE SIMPLICITY OF THE SITE - NICK IS A GUITAR MAKER NOT A WEB DESIGNER!
ALL CONTENT COPYRIGHT NICK BENJAMIN OF BENJAMIN GUITARS